The Cuyahoga EITC Coalition is part of the IRS Volunteer Income Tax Assistance (VITA) program. Since 2005, we have been helping hardworking families and individuals make use of the Earned Income Tax Credit (EITC) and other asset-building programs. The EITC is the largest, most effective relief program in the country designed to supplement the income of people who are struggling to make end's meet. Families earning less than $56,000 a year and individuals earning less than $19,000 a year qualify for our free tax preparation services.
Each year the Coalition volunteers serve over 13,000 families, individuals, and seniors from across Cuyahoga County at about 20 tax preparation sites. In addition, the refunds our clients receive are spent locally, which benefits the community where our clients live and work.
---
Our Mission: Move hardworking families from financial uncertainty to financial security
We achieve our mission by:
Providing high-quality, free tax preparation through dedicated volunteers working in neighborhood-based locations.
Giving families access to financial counseling and other tools to help them make good financial decisions.
Supporting policies and practices that create a financial system that benefits everyone.
---
Our Dedicated Staff

Senior Program Director, Kathy Matthews
kmatthews@enterprisecommunity.org
Kathy Matthews, a Senior Program Director with Enterprise Community Partners, has led the Cuyahoga EITC Coalition since 2006. Ms. Matthews is well-versed in the administration and operation of Volunteer Income Tax Assistance (VITA) sites and provides oversight for over 400 IRS-certified volunteers and 18 VITA locations.
Prior to joining Enterprise, Ms. Matthews has over 18 years of corporate work experience in the financial industry in Cleveland and Chicago. During her corporate tenure, she held various leadership roles within the retail, commercial, and client services business units. Her experiences include several management positions along with time spent leading corporate-wide, diverse, revenue generating and expense reduction initiatives.
Ms. Matthews has a bachelor's degree in English and Psychology from John Carroll University. She is a founding member of OutRun Ovarian Cancer (OROC)—a volunteer-driven, nonprofit organization dedicated to raising ovarian cancer awareness and money for research and education. She also dedicates her volunteer time in support of several schools located throughout the Cleveland area.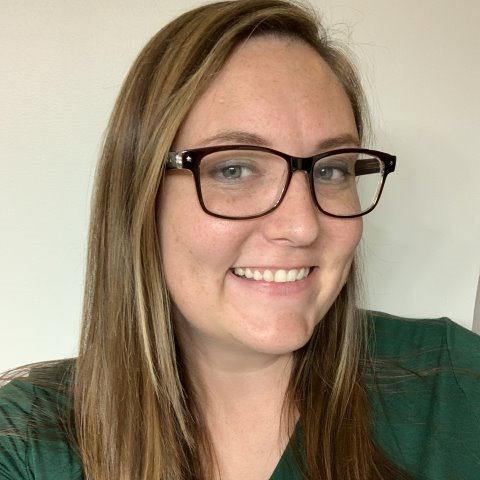 Program Officer, Maggie Campbell
mcampbell@enterprisecommunity.org
Maggie works for Enterprise Community Partners in Cleveland, Ohio as a Program Officer with the Cuyahoga EITC Coalition. Her background is in social work. She holds a Bachelor of Social Work from Youngstown State University and a Master of Science in Social Administration from the Mandel School of Applied Social Sciences at Case Western Reserve University. Maggie also earned a Certificate of Nonprofit Management from the Weatherhead School of Management at Case Western Reserve University.
Maggie has worked with the EITC Coalition for seven years in all available roles. Prior to this, Maggie had years of experience working in many different departments within the Detroit Shoreway Community Development Organization. Her aim is to further the Coalition's county-wide goal of helping low- and moderate-income individuals and families move from financial insecurity to financial security through volunteer-driven, free tax preparation.
Volunteer and Outreach Coordinator, Andre Ross
volunteer@refundohio.org
Andre started his work during the 2019 tax season as the Coalition's Volunteer & Outreach Coordinator. After serving for three years in Ethiopia as a Peace Corps Volunteer, and then as a professional political activist in Washington, D.C., Andre then moved to Cleveland with two criteria in mind for work: continue work with nonprofits and continue work that improved people's lives.
As the Volunteer & Outreach Coordinator, Andre's role is to engage with community groups and organizations that help promote awareness for the Coalition's tax services and volunteer opportunities. Beyond that, Andre works as a manager of the Coalition's volunteer experience, from training through to tax season, and is the face behind our Volunteer Hub. Too many people each year don't claim the EITC, and we're doing everything we can to make sure that everyone that qualifies can claim the credits they are due.
Operations Manager, Terry Gough
TGough@chnhousingpartners.org
Terry has a BS in Secondary Education from Kent State University. He taught in Ohio, South Carolina, Georgia and North Carolina. Terry's first job in the non-profit field was as a Housing Counselor in Charlotte NC back in 2009 right when the Foreclosure Crisis started. He was hired at CHN in 2013 as a Housing Counselor for the piloted Mortgage Resolution Fund, which was a partnership with Enterprise Community Partners and Housing Partnership Network. Terry first supported the VITA program at CHN in 2015, in 2017 I was promoted to VITA Site Coordinator. He continues to be the Site Coordinator for CHN Housing Partners, and accepted the Operations Manager position with the Cuyahoga EITC Coalition effective October 2020.